Foundations
A complete language arts program for ages 4-7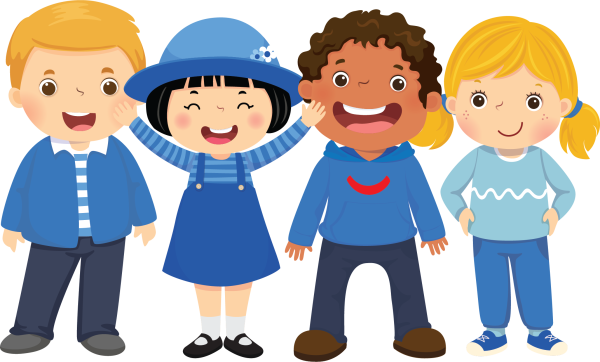 What is Foundations?
A systematic language arts curriculum for Grades K-2
Meets the needs of struggling readers and young students with dyslexia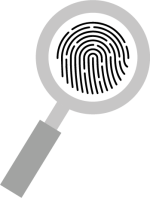 Children typically complete all four
levels in two or three years.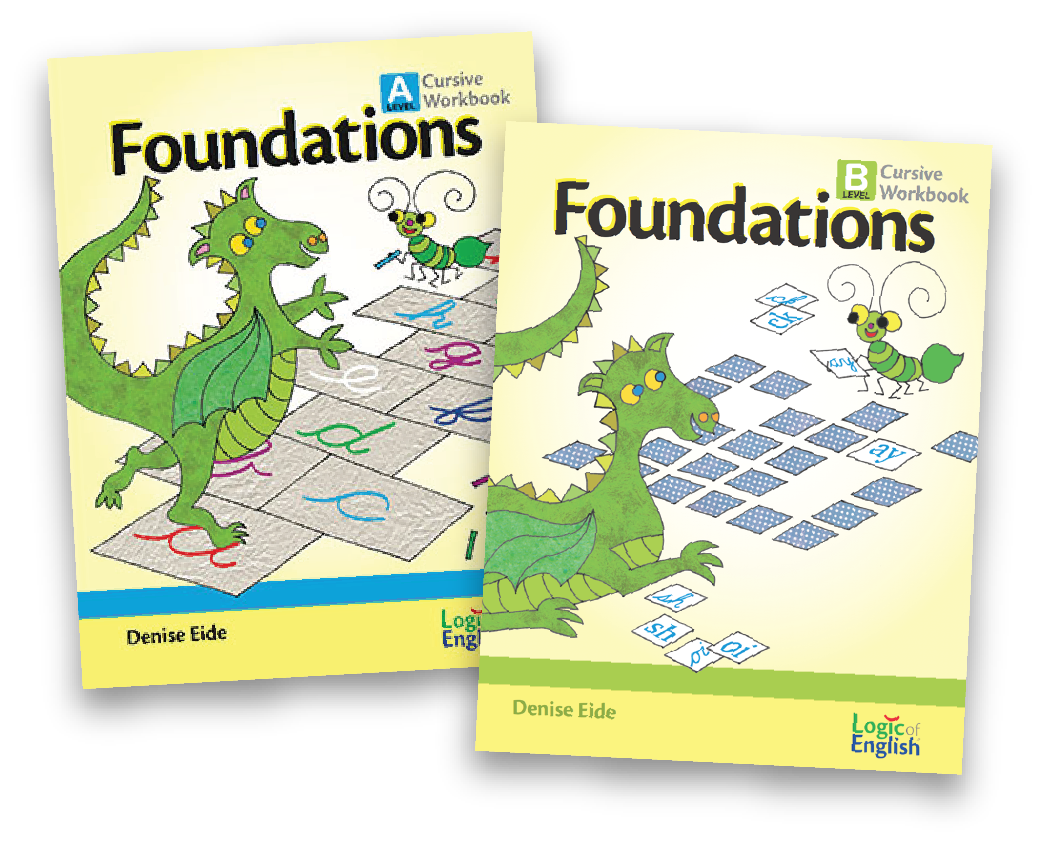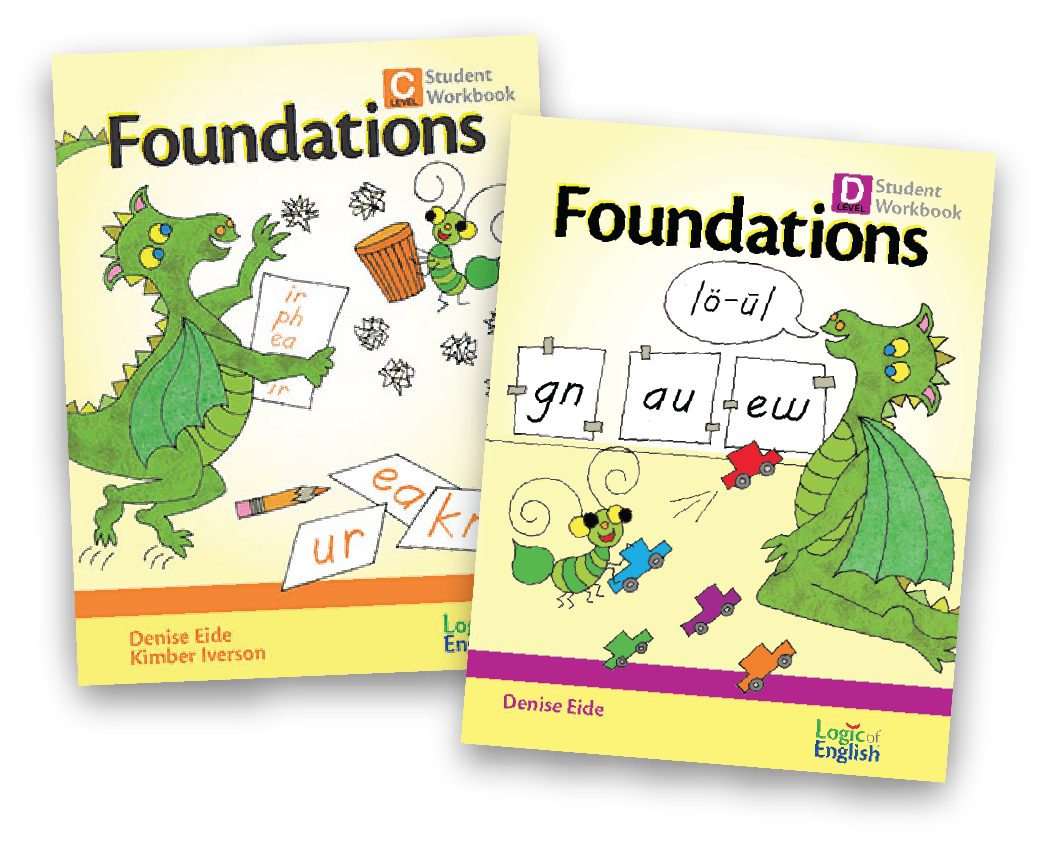 Looking for Foundations scheduling
and pacing alternatives?
Learn More
Not all students start at A.
Take our Foundations
placement assessment.
Start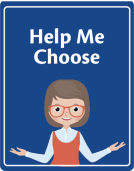 Foundations A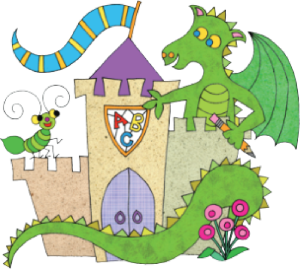 Lessons 1-40
Develop phonemic awareness.
Learn accurate phonics sounds for a-z.
Learn to write the lowercase letters in cursive or manuscript.
Read and spell one-syllable words with short vowels.
Read and spell words with consonant blends.
Read 35 high-frequency words.
Foundations B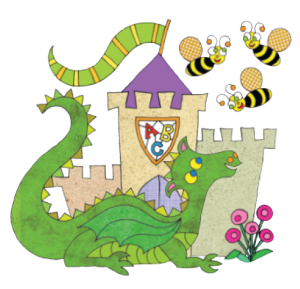 Lessons 41-80
Learn accurate phonics sounds for 21 multi-letter phonograms.
Learn to write the uppercase letters in cursive or manuscript.
Learn three reasons for a silent final E.
Use systematic phonics knowledge to analyze the spelling of 200 new words.
Learn what schwa is and why it happens in spoken words.
Read 294 high-frequency words.
Read short sentences.
Foundations C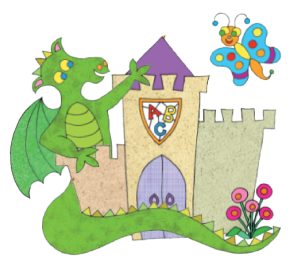 Lessons 81-120
Learn accurate phonics sounds for an additional 28 multi-letter phonograms.
Read and spell two-syllable words.
Develop comprehension skills for reading fiction and nonfiction texts.
Read 349 high-frequency words.
Read and spell 8 common affixes such as UN-, -ED, and -ING.
Develop beginning composition skills.
Foundations D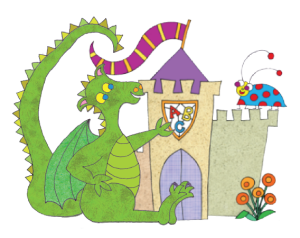 Lessons 121-160
Read 13 classic children's books.
Develop academic comprehension skills with 8 nonfiction readers.
Read and spell three-syllable words.
Learn how to add suffixes to words.
Learn the meaning of prefixes, suffixes, and roots.
Develop composition skills.
Scope & Sequence
A complete Language Arts curriculum
that integrates all the subjects into one!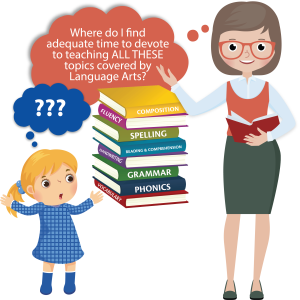 Many students find it frustrating and confusing when the spelling rules taught in their grammar book are different from those found in their spelling book.
Logic of English Foundations integrates all the skills into one program where each subject reinforces the others.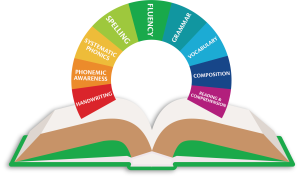 Foundations A-D
Phonemic Awareness
Systematic Phonics
Fluency
Vocabulary Skills
Comprehension Skills
Composition
Handwriting
Grammar
Spelling
Scopes & Sequences for Foundations A-D

Foundations uses evidence-based reading instruction that incorporates the Five Essential Skills
of Reading.
Assessments
Short assessments, included after every fifth lesson, aid teachers in monitoring students' progress in the foundational skills of reading and writing. Suggested review activities are provided for students who need additional practice.
Each assessment lists the specific skills being taught and the level of mastery expected.
Download form to track progress
Teacher's Manual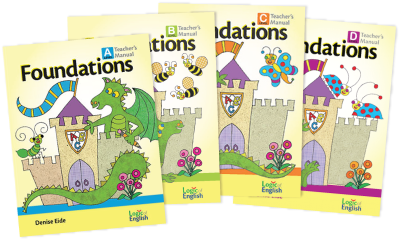 Pick-up-and-teach manuals help you learn as you teach!
Highlights
Scripted Lessons
Materials Lists
Teacher Tips
Challenge Activities
Game Instructions
Review Activities
"Every possible instruction has been included, along with many teaching tips for struggling learners, hands-on learners, or children who are having a difficult time with thier speech. I found these tips and activity ideas invaluable. I learned so much... I felt fully equipped to teach my kids and to help them if they struggled with a concept."
Lexi
Homeschool Parent and Blogger
Teacher's Manuals are the heart of the Foundations curriculum. The scripted lessons guide you step by step through how to introduce the skills. Each lesson begins with a quick-glance guide to the lesson objectives, and then moves into learning, with creative instruction and engaging activities for teaching each skill and games to develop mastery. Callouts provide answers to commonly asked questions, and optional additional activities help you differentiate instruction. The wealth of resources will help new and experienced teachers teach every lesson with success.
The Foundations A and B Teacher's Manuals include instructions for teaching both cursive and manuscript so you can choose the style you prefer.

Materials Lists
Materials needed are listed at the start of the lesson and next to every activity for easy transitions.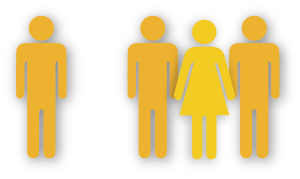 Fun and Engaging Games!
Make learning fun with active and entertaining games designed for use in one-on-one and classroom settings.
Spelling Charts
Tools to help you teach spelling analysis with success, and build students' reading and spelling fluency.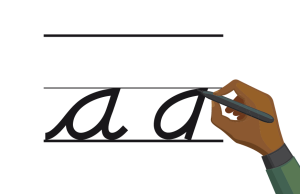 Cursive and Manuscript Handwriting Instruction
Detailed handwriting instructions in Foundations A and B provide everything needed to teach cursive or manuscript handwriting with success.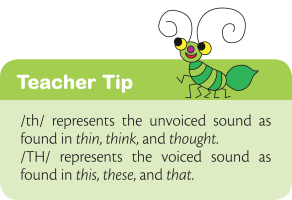 Teacher Tips
Teacher Tips offer a wealth of additional resources for helping struggling students and on-the-fly training to help you become a master reading teacher.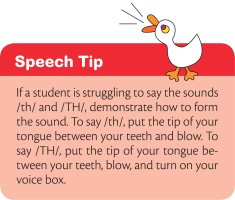 Speech Tips
Speech tips are a valuable aid for helping students who struggle with producing various sounds.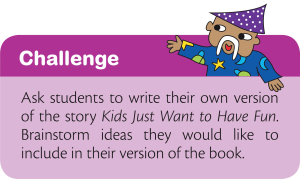 Challenge Activities
Ideas for students ready for an extra challenge!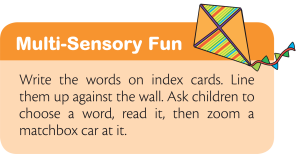 Multi-Sensory Fun
Extra multi-sensory activities that provide fun and engaging ways to further enhance learning!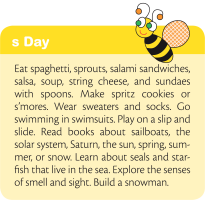 Phonogram of the Day
Fun ideas to help students discover the connection between the phonogram your students are learning and the world around them.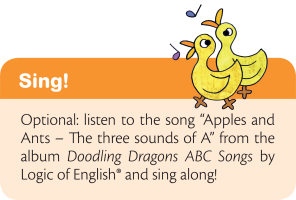 Incorporate music into learning the A-Z phonograms with Doodling Dragons ABC Songs!
Book Lists
Lists of additional books that students can read with the phonograms and spelling rules they have learned -- with no sight word memorization or guessing!
Student Workbook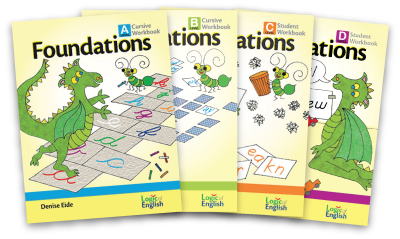 Not your typical workbooks!
Highlights
Phonogram Games
High-Frequency Word Games
Skills Mastery Activities
Handwriting Practice
Comprehension Activities
Copywork
"We really have been having a fabulous time with this! I cannot say enough how much I love seeing my little guy love doing Logic of English each day. He is excited about it, no moaning or groaning. It is all laid out in such a clear and simple way that he is really beginning to see and understand language in a way that is making him a much more confident reader."
Jennifer
A 'Peace' of Mind
Colorful and fun, Foundations Student Workbooks are filled with a wide variety of structured yet playful activities and games to engage students in developing strong reading and writing skills.
Consumable student pages include dozens of the games, learning activities, and practice. All instructions for how to complete the Foundations Student Workbook activities are found in the Teacher's Manuals. Foundations Workbooks CANNOT be used alone.
Foundations A and B workbooks include handwriting activities in cursive or manuscript. When purchasing choose the handwriting style you will be teaching.
Why do we recommend
starting with cursive?
Learn More
Phonemic Awareness
A wide variety of phonemic awareness activities help students increase their awareness of sounds and practice blending and segmenting words.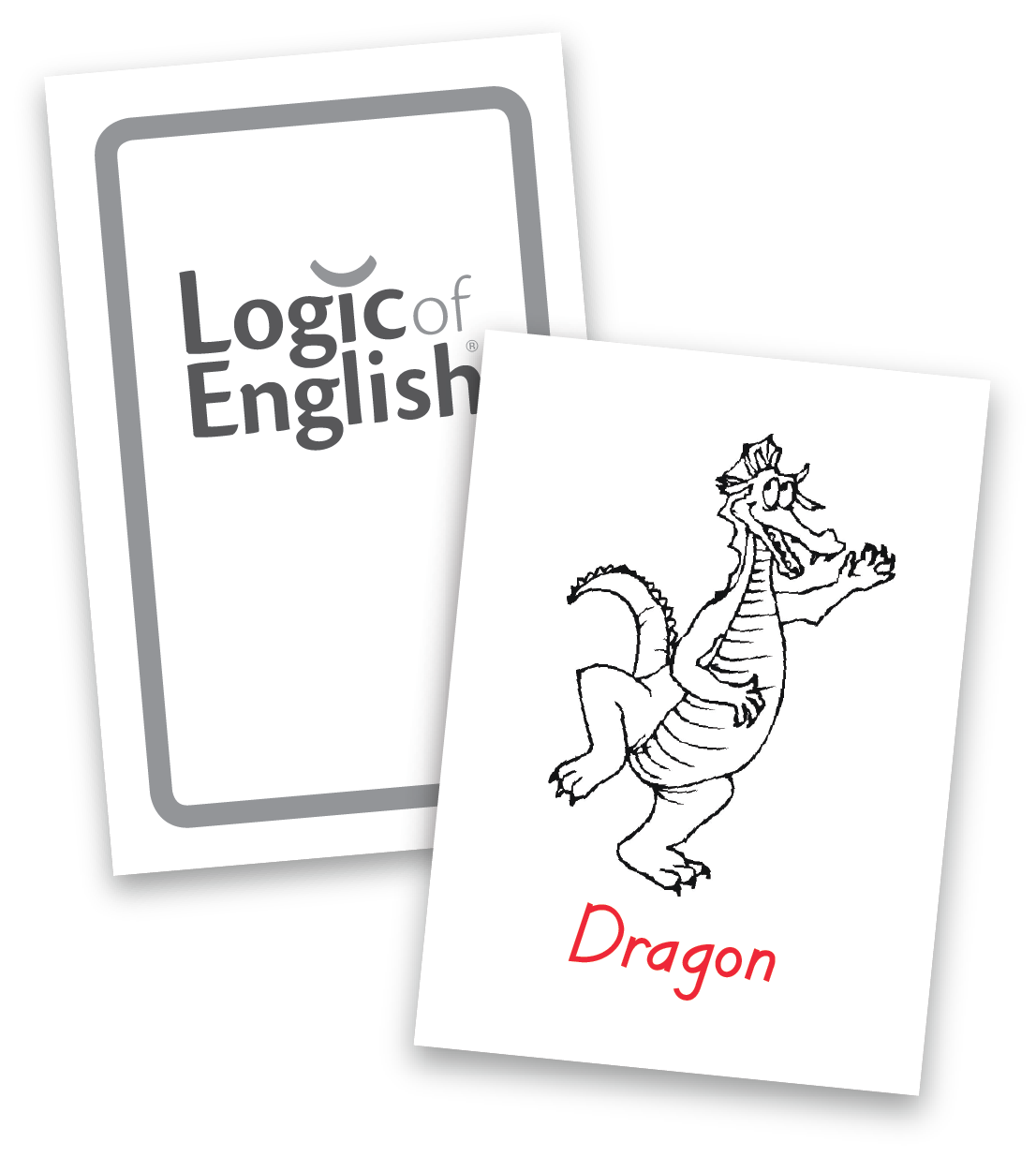 Phonogram Games
A wide variety of games to engage students in mastering the phonograms.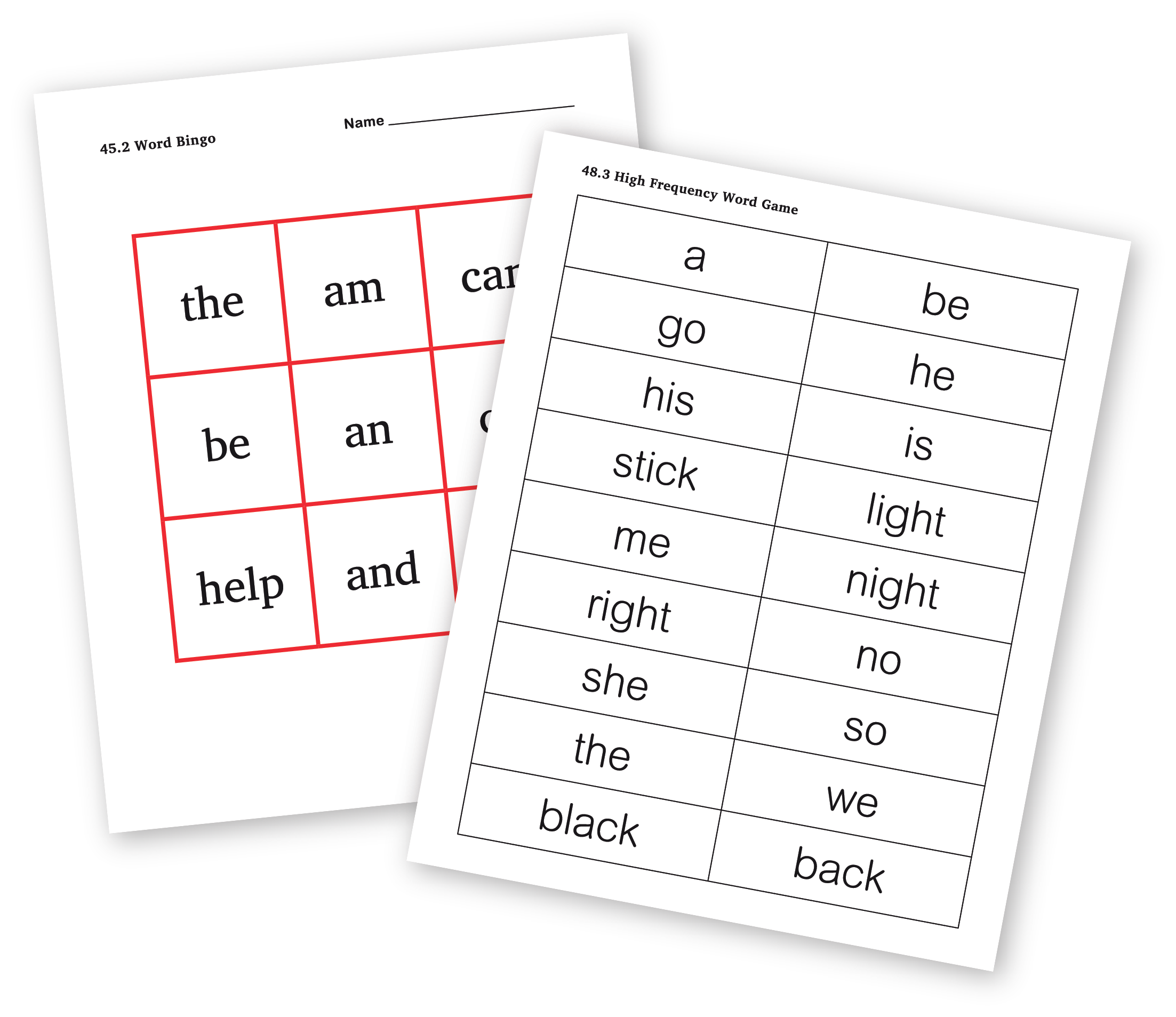 High-Frequency Word Games
By playing creative and high-energy games, students develop fluency reading high-frequency words.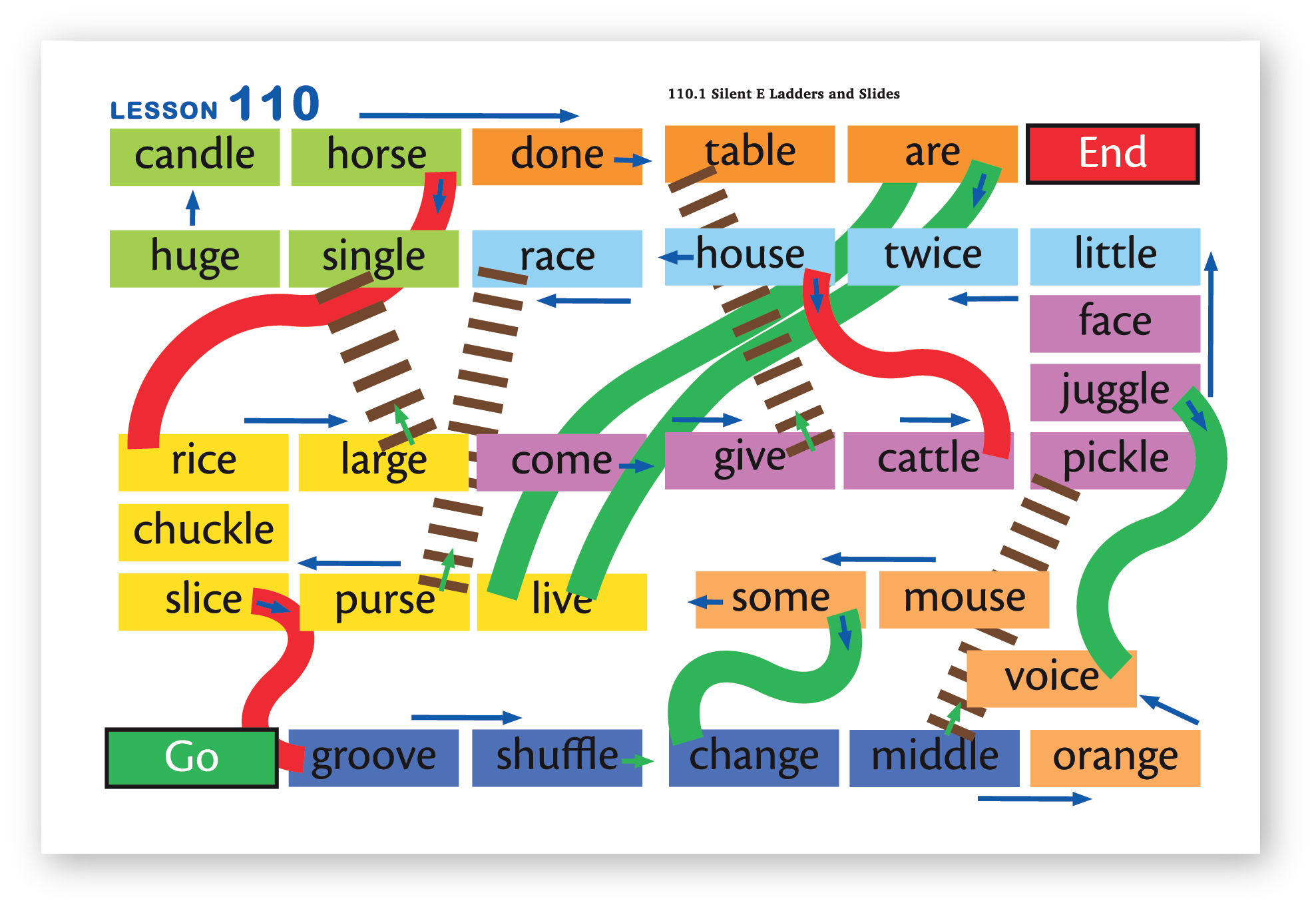 Skills Mastery Games
Imaginative games such as Silent E Ladders and Slides build mastery of skills such as blending, reading words with silent E's, adding suffixes, and more.
Comprehension Games
Creative activities that build comprehension through solving riddles, performing actions, sequencing pictures, tracking a sporting event, and more!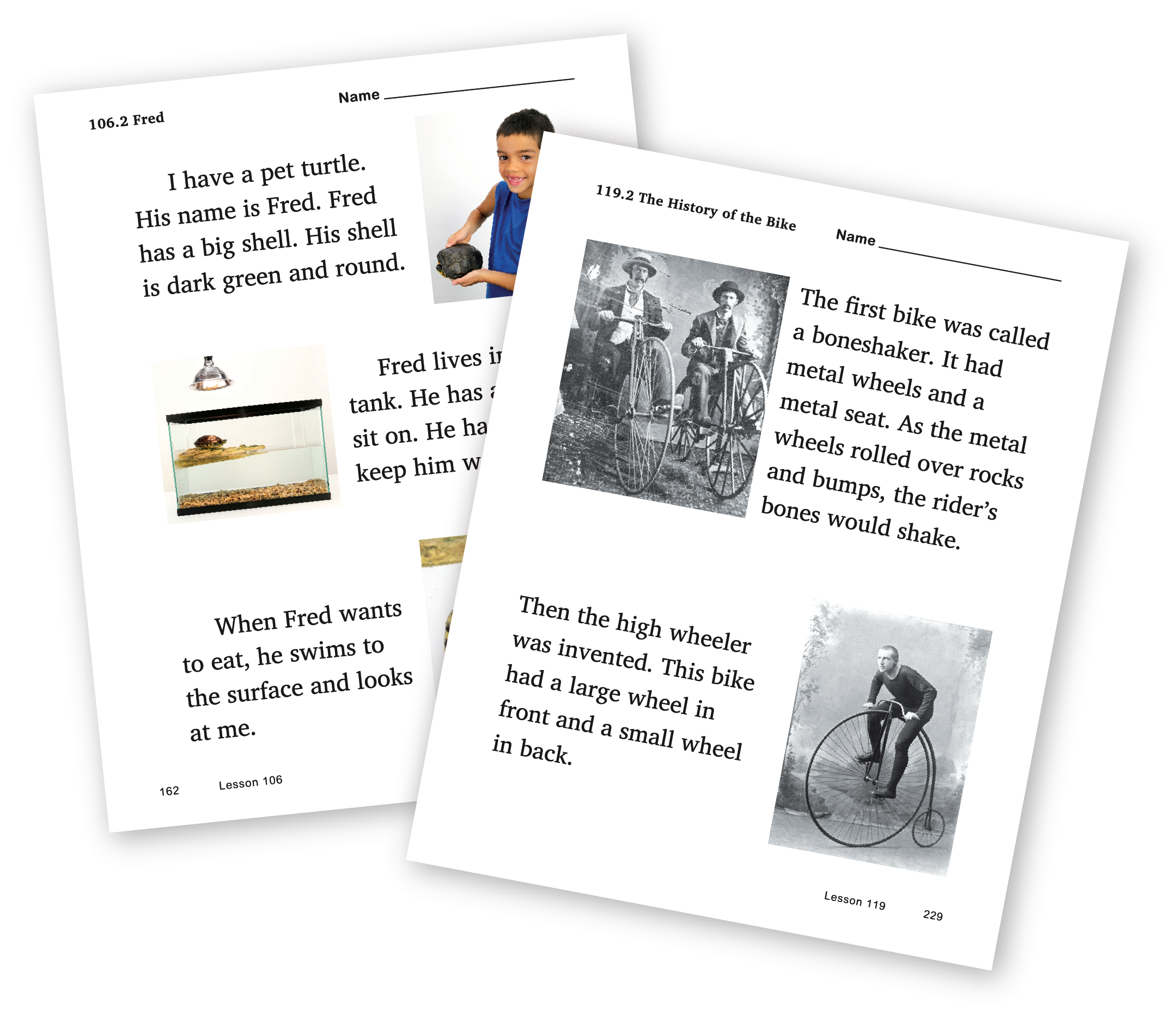 Comprehension Texts
As students progress through Foundations, additional comprehension texts deepen students' background knowledge and give them experience in reading academic texts.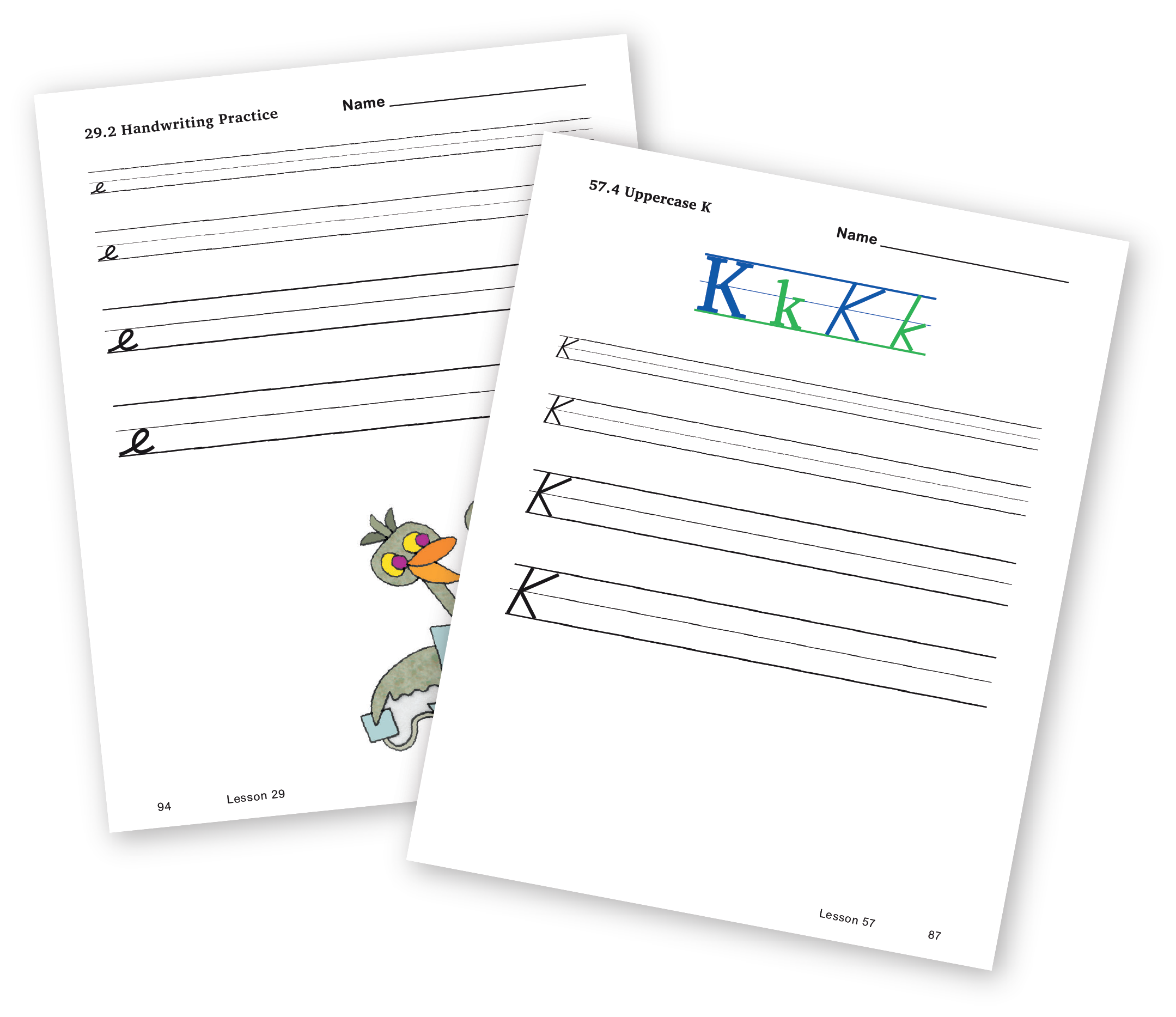 Handwriting Practice
Foundations A and B Workbooks are available with Manuscript OR Cursive handwriting practice. Four line sizes are included so that students can choose which size is most comfortable for their hand.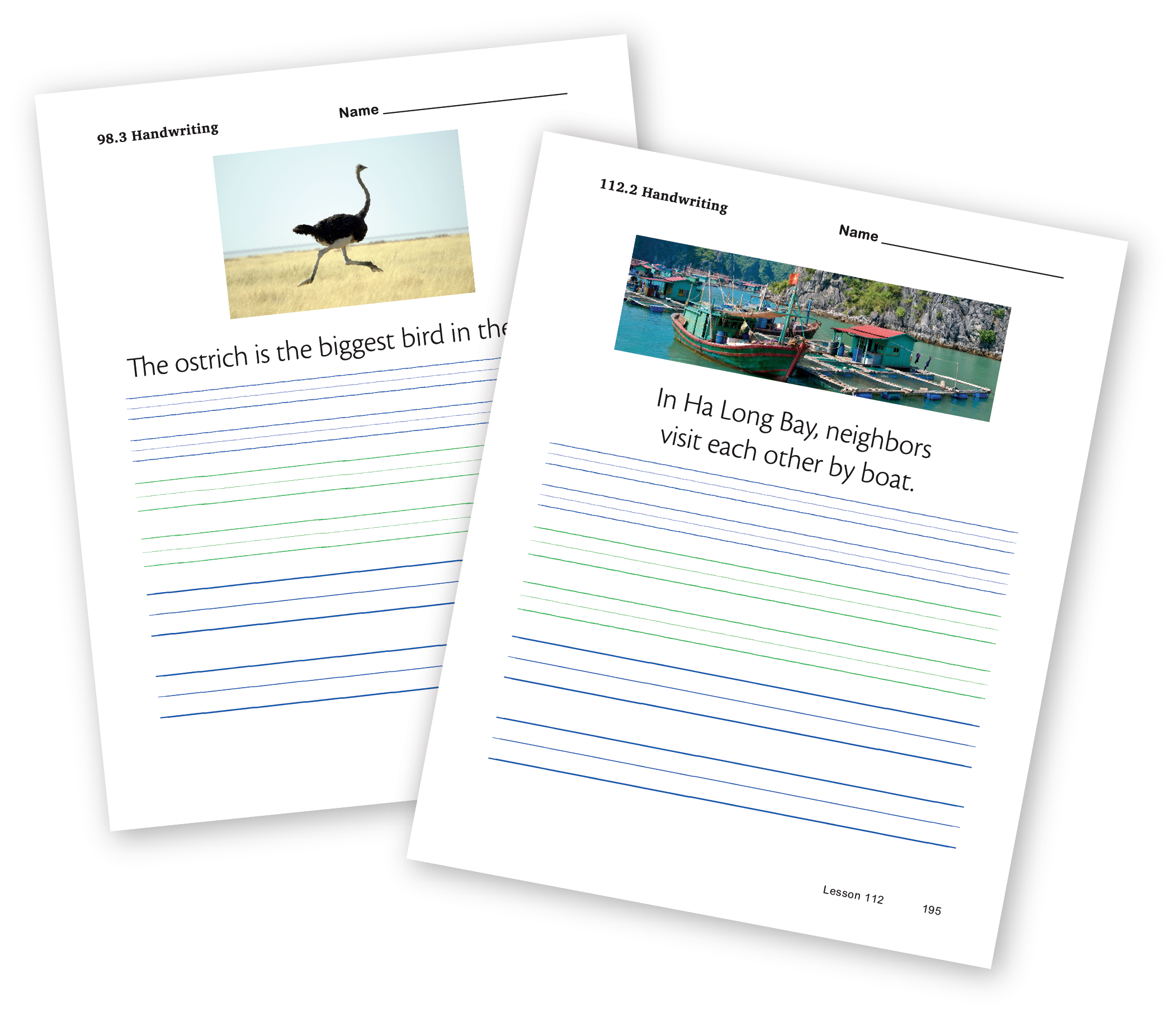 Copywork
Once students have learned to write the letters, copywork is introduced in Foundations B modeling the handwriting style students are learning, while in C and D students practice translating typed text into handwriting.
Composition
Graphic organizers; images for creating a travel brochure; templates and prompts for creating lists, brochures, booklets, and other texts help to inspire students to write.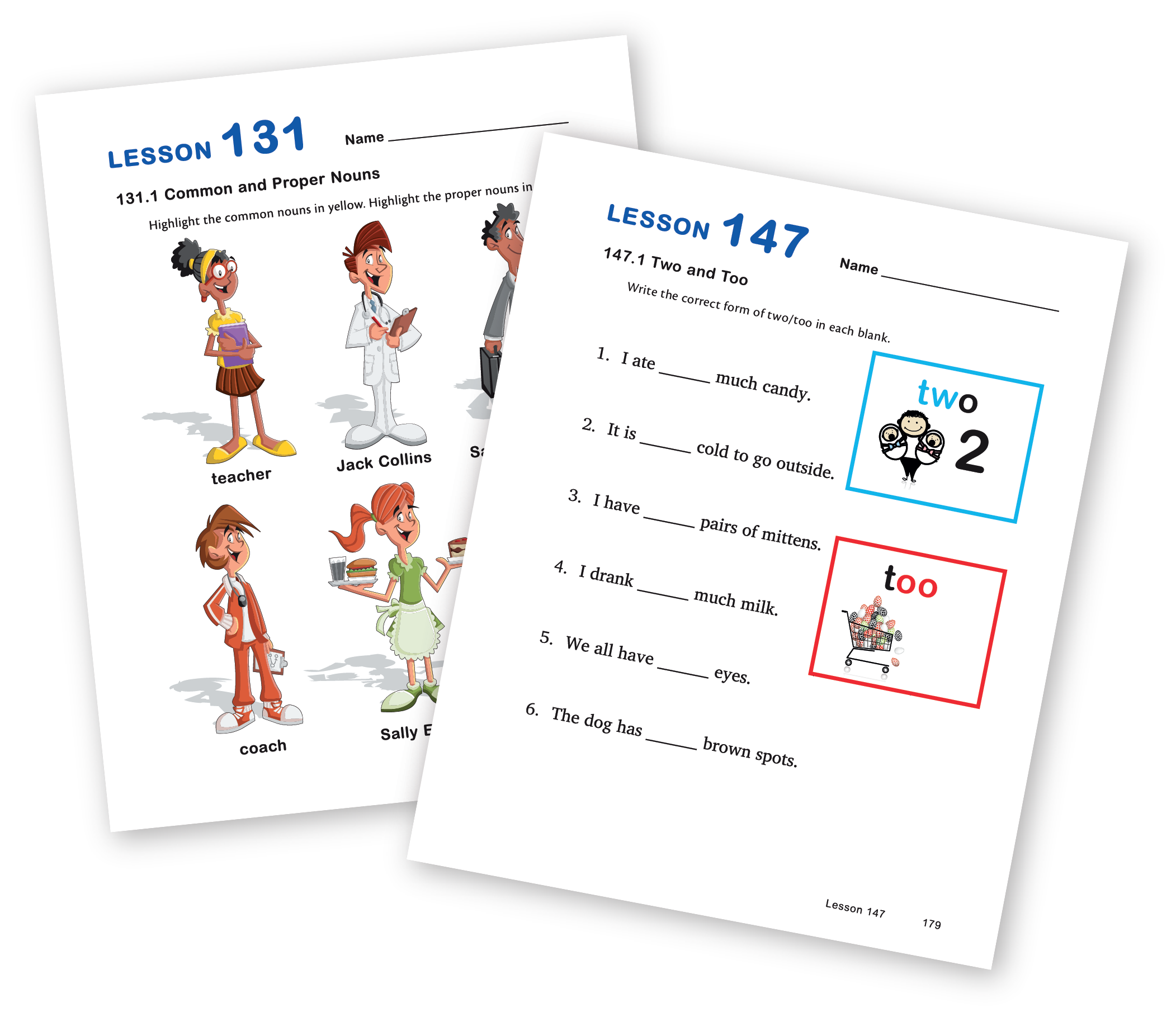 Grammar Activities
Starting in Foundations D, students practice identifying the basic parts of speech, punctuating sentences, and identifying statements and questions through colorful and fun activities.
Readers
Colorful, engaging, and fun!
Foundations Readers grow in complexity as students progress, guiding them step by step on the journey into independent reading!
In each level of Foundations, students read interesting and delightful readers. These fiction and nonfiction texts are carefully controlled for the phonograms and spelling rules and do not require students to memorize sight words.
Standards/Skills
Logic of English Foundations meets and exceeds all of the commonly required K-2 ELA standards.
Foundations exceeds commonly required literacy standards by explicitly teaching foundational skills and building on those skills in accordance with evidence-based practices. Some of the speaking and listening standards are not explicitly taught in the curriculum as they need to be observed by the teacher; however, the activities are crafted to engage and support these skill sets as well.
Download the standards taught in Foundations A-D
Curious for more details?
Check out our comprehensive FAQ.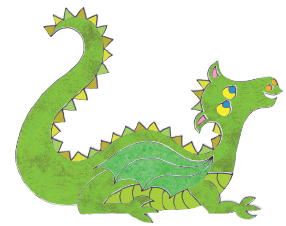 What's next? Let's tour
Foundations A